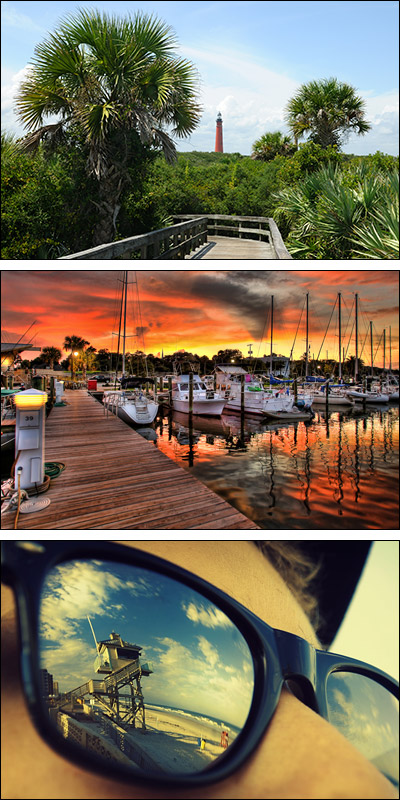 Blue skies meet over 13 miles of white sand in New Smyrna Beach, consistently voted one of the "Best Beaches". New Smyrna Beach lays claim to the best Florida offers--excellent backwater and offshore fishing, golf, historical sites, cultural events and eclectic shopping and dining experiences along historical Flagler Avenue and Canal Street.
Just south of New Smyrna lies the Canaveral National Seashore, which offers excellent swimming, bird watching, hiking and more. Anglers at nearby Mosquito Lagoon have set international records with giant redfish catches. Deep-sea charters leave New Smyrna Beach daily, giving offshore fishers an easy way to wet a line in the beautiful Atlantic Ocean.
Many historical and cultural sites also make New Smyrna Beach noteworthy. From the Turnbull and Sugar Mill Ruins, to the Eldora State House and the Ponce Inlet lighthouse, the area is rich in history.
Named one of "America 's Top Small Cities for The Arts," New Smyrna is home to the Atlantic Center for the Arts, an artists-in-residence community and educational facility, the Harris House, the Little Theatre and Arts on Douglas . Frequent arts shows featuring visual and performing arts take place throughout the year.
Flagler Avenue and Canal Street, which were recently renovated, feature several quaint shops and cafes. It should be no surprise that the second oldest city in Florida is also home to many antique shopping pavilions.
New Smyrna possesses a distinct hometown quality reflected in its cracker architecture, lush tropic landscape and community. Enjoy culinary delights from fresh seafood to steaks and pasta on the waterfront, or under an umbrella at a sidewalk cafe.